Inspiring words from our Vise-Chair, Teresa Kpachavi
"Last November, you helped the Newaygo County Democratic Party
turn out a record number of Democratic voters.
Thanks to your efforts, Bill Huizenga's margin of victory in
Newaygo County dropped by 25%.
That is a difference of 4000 voters.
Our county is a Republican stronghold,
but the GOP influence is waning!
In order to maintain our momentum,
it is incredibly important that we don't disappear in 2019.
We label many of our Republican officials as out-of-touch opportunists; but if Democrats only organize and rally during election season,
how can we claim to be different?
The fight for a clean environment, social justice, fair wages,
healthcare for all, and quality education needs persistent champions.
We are in this for the long haul!
Here are some things we hope to do this year to
build momentum for 2020:
· Host Public Forums — invite presenters to discuss environmental issues, challenges facing public education, economic equity, etc.
· Canvassing — knock on EVERY door in as many Newaygo County neighborhoods as possible to talk with our neighbors. We want to find out who they are and what issues matter to them.
· Youth Outreach — visit high school government classes, invite teens to meetings/events, offer internships.
· Expand Communications & Visibility — frequent op-eds, increase social media presence, participate in community events.
· Hold Elected Officials Accountable — monitor legislation and rally members to weigh in on important bills. Keep Newaygo County residents informed when elected/appointed officials vote or act against their constituents' interests.
· Boost Fundraising & Membership — build capacity so that the 2020 Democratic candidates don't have to rely on corporate donors.
This list is not exhaustive and we welcome more ideas.
Hopefully you see action items that fit your
philosophy, talents and schedule.
The NCDP is looking forward to an exciting year of being visible and vocal. Please step up to add your vision and voice!
Our first NCDP meeting of 2019 is tonight!
Please join us.
Even if you can only stay for 30 minutes,
​come let us know how you would like to be involved."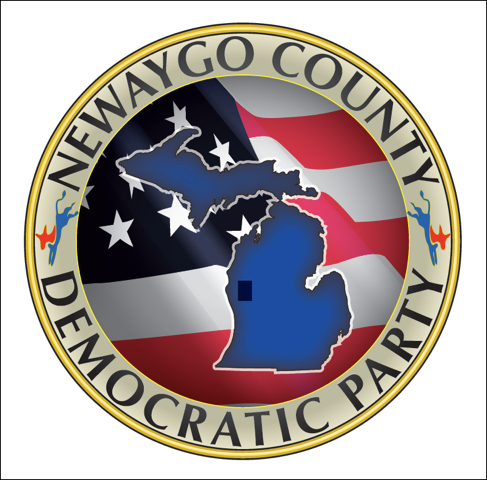 Paid for by the Newaygo County Democratic Party, 2531 W. 140th St., Grant, Michigan 49337. Not authorized by any candidate or candidate committee. Solicitations are in behalf of the Newaygo County Democratic Party, not any candidate or candidate's representative. Contributions to the Newaygo County Democratic Party are not tax deductible.